Dental Crowns
A crown is a protective cap that shields your tooth from damage and decay. Before dental crowns, when a tooth decayed to a certain point, the entire tooth had to be extracted. Crowns allow dentists to save patient's teeth and to preserve the integrity of their tooth roots, even after a tooth has suffered significant damage. Crowns help patients keep a healthy full set of teeth for the rest of their lives.
Our crowns are made from a beautiful, high quality porcelain. Porcelain mimics the translucency and natural color of your teeth. Before porcelain was used in crowns, dentists used metal or amalgam. This made crowns noticeable and made crowned teeth stand out. With porcelain crowns, your crowned teeth look exactly like natural teeth. The people you meet won't even know that you're wearing a crown.
Crowns are durable, and long lasting. They look and function just like your regular teeth, and require the same care. Crowns can be brushed and flossed along with your regular teeth.
We offer CEREC CAD/CAM technology providing patients single-visit dentistry. CEREC is a process for creating a high-quality porcelain restoration such as a crown, veneer, inlay, or onlay. Dr. Garr creates these restorations right in his in-office lab making the whole procedure fast and convenient.

One-Visit Crowns with CEREC
Traditional dental crowns can take up to three visits and the use of a temporary crown to fully restore your tooth. With CEREC technology this can be done in a single visit while you are in the chair! CEREC's precision 3-D technology allows us to create a customized crown that fits your teeth perfectly and is completely biocompatible with your own tooth structure.
No Temporary Crowns
With CEREC same-day crowns you eliminate the need for a temporary crown. Many teeth become sensitive from wearing a temporary crown and some of those teeth require root canals to alleviate that sensitivity. CEREC restorations protect your teeth from decay.
Dental Bridges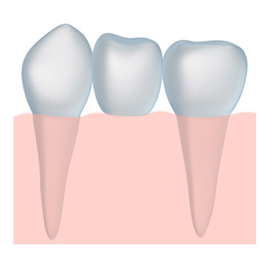 Using dental crowns, a dentist can protect your teeth. At Garr Dental Center, we can also use crowns to replace teeth that have been lost. When a patient is missing several teeth or have a gap in their mouth, a dental bridge can be used to fill that gap.
Dental bridges use beautiful porcelain crowns to replace missing teeth. A bridge is a line of crowns that can be placed in your mouth to bridge a gap between your teeth.
To install a dental bridge, Dr. Garr will attach crowns to the teeth adjacent to the gap. Replacement crowns will be cemented to the adjacent crowned teeth, filling the gap and giving you a confident, beautiful, full smile again.
Bridges are an affordable and efficient way to replace missing teeth. They allow patients to chew and speak normally again and restore a patient's occlusion.
Garr Dental Center Has the Solutions to Protecting and Restoring Your Smile
To find out more about our dental crowns and dental bridges, contact our office today.