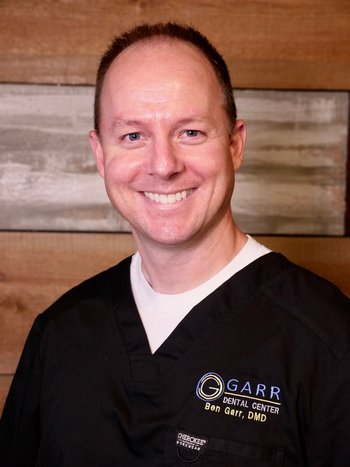 My Personal Story…
"My interest in dentistry began as a young boy. At an early age I was inspired by my grandfather who was known as a perfectionist in his field. He worked as a dental technician for over 50 years. While dentistry is very technical and ever changing with new technology and materials, I believe the most important component to our practice is the relationship we build with our patients. Dentistry is really about people first. A successful outcome for me is a happy patient that I've been able to help along the path to optimum health. I believe the mouth is the window to the body. If the mouth is healthy, it's far more likely that our body will be as well. I feel privileged to be able to assist others to achieve better health."
Dr. Garr received his Doctorate of Dental Medicine from Case Western Reserve University in Cleveland, Ohio. He brings extensive experience in all aspects of state-of-the-art dental medicine after having practiced in Salt Lake City and Ogden, Utah, prior to coming to Carrington, ND.
Dr. Garr is a member of the American Dental Association, the North Dakota Dental Association. He is also a member of the Academy of General Dentistry and The Crown Council, a prestigious alliance of leading-edge dentists around the world.
Having lived in Guadalajara Mexico and becoming fluent in Spanish, he has been able to provide dentistry in various parts of the world. He participated for three years on humanitarian projects providing dental care to underserved people of the Dominican Republic. Dr. Garr's detail oriented yet gentle style creates a comfortable atmosphere patients can appreciate.