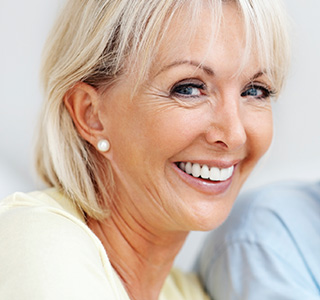 If you are missing any teeth, Garr Dental Center offers dental implants to help replace your teeth—restoring not just your smile, but your full oral health as well!
What Are Dental Implants?
A dental implant is a synthetic tooth root that can serve as a replacement for patients who have missing teeth. Dental implants are made with a special titanium alloy that fuses directly to the bone just like a regular tooth root. When combined with a dental crown, a dental implant can make a perfect artificial tooth replacement.
Other restorative dentistry procedures that replace just the visible surface of missing or lost teeth; restored dental implants, on the other hand, replace the tooth root as well as the part of the tooth above the surface of the gum.
Benefits of Dental Implants
When a tooth is lost, and the tooth root is not replaced, the bone underneath starts to deteriorate. This deterioration can have a negative affect on the appearance of a patient's face, and their overall oral health.
Dental implants keep the jawbone healthy and strong! They provide a beautiful, fully functional tooth that looks and feels completely natural. You can have a full and complete smile again, and your peers won't be able to tell that you've had a restorative dentistry procedure.
Losing a tooth can be devastating, but dental implants can restore patients' hope and allow them to enjoy day to day activities and social situations again.
At Garr Dental Center your dental implant can be placed and restored at our office. You can have the entire procedure done by a dentist you trust in one convenient, easy, location.
The Dental Implant Procedure
If you are a candidate for dental implants, we'll be sure to explain each step to you before proceeding. The general process is as follows:
First Dr. Garr will prepare the area in the gums for the tooth implant.
Once the area is clear, Dr. Garr will place the implant.
After the implant has healed, at a second appointment, Dr. Garr will fix the abutment, and attach a beautiful dental crown.
That day you will leave with a full smile and a beautiful, functional tooth.
Dental implants are cared for with flossing and brushing just like your regular teeth. Dental implants never get cavities and are durable enough to last a lifetime with the proper care.
Call Garr Dental Center to Learn More About Dental Implants
To find out more about implant dentistry and to schedule an appointment, contact us at our office today. Our caring dental team will be happy to answer any questions you have about the dental implants procedure or any other smile concerns.